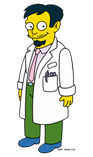 Let's face it, we all Google! That isn't a bad thing - the internet is a fantastic resource, provided that you know the right place to look.
This list is intended to ensure that the Dr Google you consult is less like Dr Nick Riviera from the Simpsons, and more like Dr House (although we're pretty sure our GPs can outdo his bedside manner).
We'll be aiming to regularly add to the resources here, and hope that it can start becoming your first port of call for high quality information.
Our Facebook page is another good source of info - see our liked pages for some organisations and websites that have unbiased, high quality information for patients.